(This story is the last in a year-long series to celebrate the 20-year anniversary of TEF Design. Check our blog for newly published stories about our firm's people, our community, and what drives us to design.)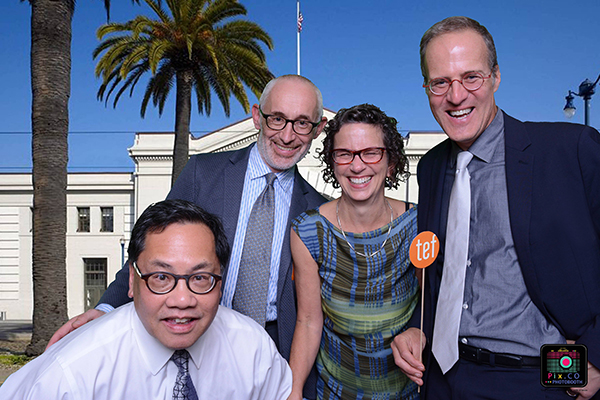 A few weeks ago, when we were planning our 20th anniversary party, one of our staff members asked me what it was like to start this firm. And I got a cold chill. I remembered going into our new office on that first day in 1997 and thinking, "What have we done?"
But now, two decades later, the firm is at a point where we can confidently pursue projects, within the parameters of who we are and what we do. We've learned how to collaborate with bigger firms and even some world-famous architects. And I think we've developed a culture and a set of values that will support a course for the future. Working with mission-driven clients has become part of our DNA, important not just to the principals, but also to our staff. Time and time again, it comes up in interviews as one of the reasons people want to come work here.
Since those early days at the drafting table, the firm has thoroughly embraced the digital age, even at the principal level. (Not me, personally — I'm holding onto the analog side for dear life.) I'm also seeing our tech-savvy younger staff incorporate hand drawing into their processes. Even as we've created a committee to explore the possibilities of virtual reality, we still hold an annual sketching contest in the office. As we see it, the digital and the analog complement each other, and they're both essential.
While technology has become essential to our design process, our solutions tend less toward the parametric geometries that stimulate and provoke. I loved the recent Los Angeles Times article that Christopher Hawthorne wrote in praise of the quiet style in architecture. He writes, "there's something archetypal about this architecture. Its forms are basic, totemic.… It sometimes relies on modules or grids. It's often monochromatic. It's post-digital, which means it rejects the compulsion to push form-making to its absolute limits that overtook architecture at the turn of the century…. Its overriding characteristic is a sort of stillness. It is against virtuosity (at least the showiest kind)."
I would say our work falls into this category. A lot of that is due to our personalities, but it's also due to our clients. Since so many of them are community and public institutions they want the money to show up not in the architecture, but in the programs they offer. But even if a client gave us carte blanche, we would gravitate toward the quiet notes. All of our principals embrace a clean modernist style — an authentic integrity, if you will — and the people who are drawn to work here share that attitude.
In the past two decades, we've been concentrating on developing work in certain markets. We don't have to chase after every kind of project. Looking forward, I can see us focusing and expanding even more. In the last couple years, each principal has found new places to specialize. Bobbie remains focused on interiors and healthcare, Alyosha is bringing in healthcare projects as well as university and public clients. Andrew continues to work with developer clients, university clients and on historic, adaptive re-use work, and I'm more involved with Pre-K to 12 projects, public clients and non-profit, community facilities.
It's been great to see our younger staff also taking on more responsibilities and connecting in specific market areas, too. I'm very excited about the next generation of the firm. Here's to the next 20 years. And most of all, here's to the clients and collaborators who have made all of it possible.