By Paul Cooper, Jennifer Tulley, and Kate Thorson
Ten years ago, the Bay Area Headquarters Authority (BAHA) renovated a 1940s concrete building into the Bay Area Metro Center to house four San Francisco agencies. As the interior design firm for the project, we were asked to focus heavily on encouraging collaboration and the cross-pollination of ideas among the agencies and their various departments. Then, two years ago, the pandemic turned everyone into remote workers.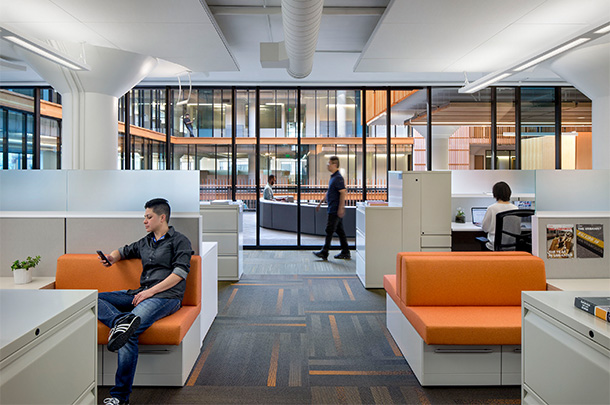 "Actually, because of the work we did preparing to move into the building in 2012, we were well positioned when COVID-19 struck," says Andrew Fremier, deputy executive director of operations for the Metropolitan Transportation Commission, which shares the building with the Bay Area Air Quality Management District, the Association of Bay
Area Governments, and the Bay Conservation and Development Commission. "The first big change we made in moving to the Bay Area Metro Center was going from 70 percent private offices to 30 percent private offices and creating a workspace that had no demising walls," he notes. "We gave people their choice of iPad or a workbook. We bought everybody the latest phone technology of their choice so they could work anywhere they needed to." In March of 2020, when shelter-in-place orders took effect, "we had the IT infrastructure in place, the work tools in place, and the security embedded in our computer systems for staff to work from home. We could still function effectively."
Fast forward to 2022. As the pandemic began to ease, BAHA brought TEF back to analyze how the agencies might reoccupy the building in a way that supported hybrid work, with some staff working remotely and others in person. We held virtual agency workshops, reviewed past agency surveys, conducted new interviews and surveys with staff, and analyzed the existing spaces and technologies in use.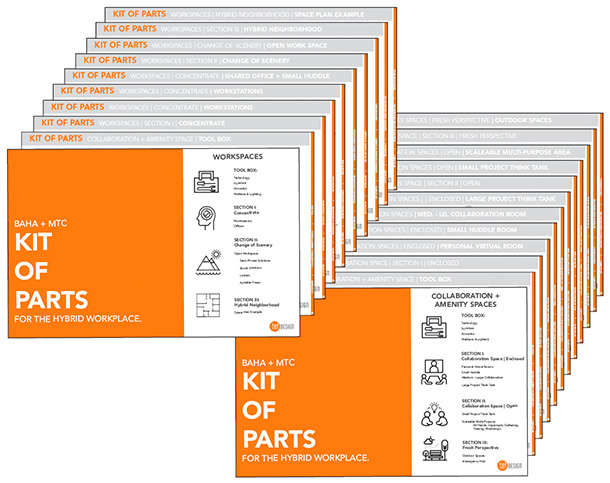 We knew that the staff members of these agencies would return to the office in varying degrees, depending on the nature of their work and needs. But it was important to give everyone good incentives to come in and interact with each other in person. "Our agency has about 350 staff, and we've had 120 new hires since COVID," Fremier says. "That's a third of our agency. To make sure we know who might be the next generation of leaders, we need to learn how they interact. Teams feel like they have to find time together in person so that they can build a level of trust. And Zoom meetings are much more regimented than in-person meetings: they start and end on time, and sometimes that doesn't allow for those casual conversations that happen as the room empties, where a light bulb goes off and you realize you just found a valuable resource to help you solve another problem."
The surveys told us that staff wanted even more space devoted to collaborating. At the same time, there is still so much uncertainty with COVID-19 that it may be premature to make big wholesale changes. "As a public agency, we can't take a lot of risk with things that may not stick around," Fremier says. "How much do you invest in remaking the workplace when the experiment is still going on? Should we have everybody in the office Tuesdays, Wednesdays, and Thursdays, or should it be more ad hoc? What is the right number of people to be coming to the office regularly to give us the opportunity to really work as a team?"
To address this challenge, we created a kit of parts for new collaborative/shared hybrid spaces to provide a menu from which the agencies can pick and choose scenarios to implement in their designated or shared spaces. The design team prioritized simple, economical changes to existing spaces and furniture as a distinct project goal. Our recommendations, detail options for private-heads down work while also considering: 1) open, semi-private spaces; 2) enclosed and open hybrid meeting spaces; 3) amenity spaces; and 4) a hub that all four agencies can share.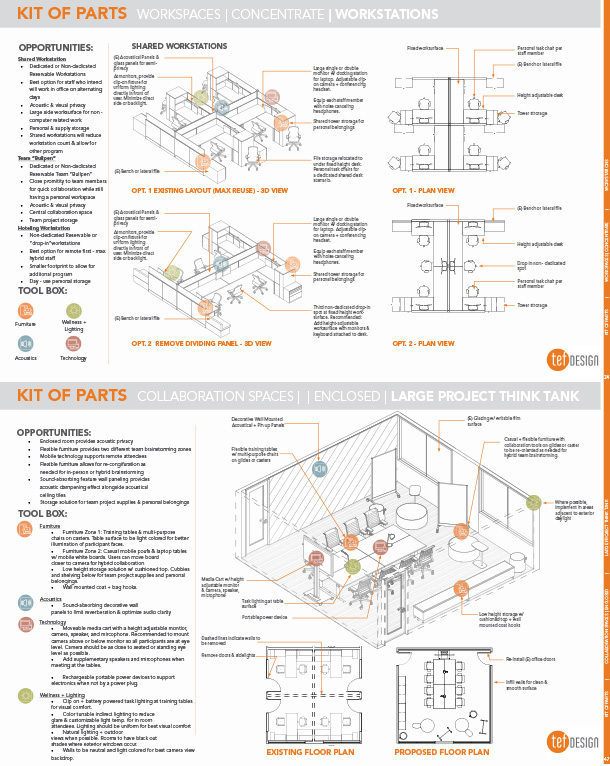 We investigated ways to make conference rooms more workable and equitable for hybrid Zoom/in-person meetings. Possible strategies include replacing tabletop microphones with microphone drops at the ceiling equally spaced around the room - reinforcing flexibility & eliminating disruptions from noise at the table surface; upgrading lighting solutions to better illuminate faces on camera; tapered table shapes to orient in-person participants towards the camera with no obstructions; and placing cameras and video monitors at eye level so everyone—whether they're there in person or joining remotely—appears at the same field of view on the Zoom screen. This can help make everyone, virtual or not, feel like an equal participant, an important value for BAHA.
With the rise in virtual meetings, good acoustic separation in open office areas becomes more crucial than ever. "Options include implementing private and semi-private booth options equipped with technology for individuals or teams to tuck into for a virtual meeting. We also see opportunities for maximizing private offices by converting them to shared hybrid conference spaces, or to make private offices flexible enough to serve as a conference room for small groups when the occupant is working remotely. Another option: no dedicated private offices at all—everyone books a workspace of their choosing when they come to the office.
Now that so many have gotten used to working from home, we're also looking into ways to revamp the spaces to feel more informal,comfortable, and encourage interagency interactions. That way, people can look forward to coming in and collaborating with each other in an environment that welcomes them. Fortunately for the Bay Area Metro Center, when TEF worked with core/shell architect Perkins + Will, we all agreed that the floor plates of the original building were too deep to allow natural light to reach everyone's desks, so we created an atrium that brings in lots of daylight, something people love. In addition to the atrium space, special consideration was given to the highly coveted outdoor terrace. The kit of parts details interventions to make the space more comfortable for working or socializing.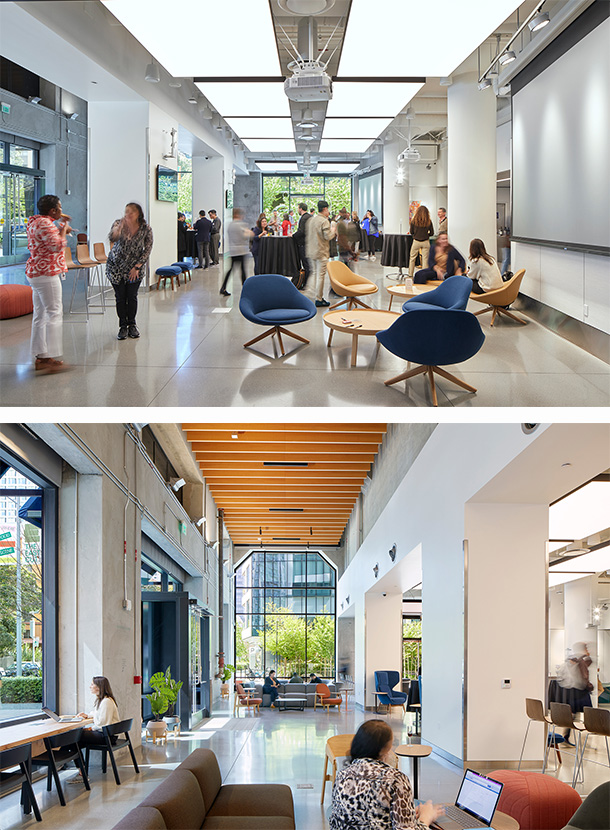 The agencies will embark on a piloting phase where they will select scenarios from the kit of parts to test out around the building. We will conduct workshops, gather & analyze feedback, and then revise the scenarios as needed. "Our work to date with TEF has gotten us to a place where we have the right-sized bites," Fremier says. "We can work on portions of our building and get people willing to experiment so we'll be able to say what we want to invest in more of in the future."
We developed this kit of parts specifically for Bay Area Metro Center's four agencies, but the essential concept behind it could be customized to a wide variety of businesses and organizations, depending on the nature of their work and the qualities of their existing or future spaces. The nature of work is changing, and we need more flexible spaces to handle the new normal—if "normal" is even the right word anymore.