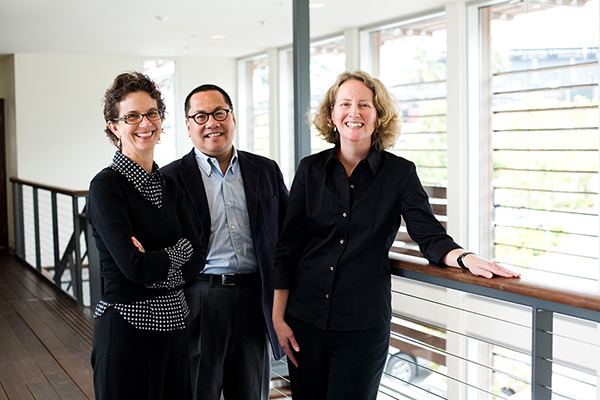 Pictured above: Bobbie, Doug and Amy at the South Beach Harbor Services Building

(This story is the second in a series to celebrate the 20-year anniversary of TEF Design. Check our blog for newly published, bi-monthly stories about our firm's people, our community, and what drives us to design. Sign up — in the right corner above — to receive those updates in your inbox.)

From the very beginning, we always thought we would grow. We didn't think of ourselves as a small firm. So just as Chuck was leaving, we hired Amy Eliot and Bobbie Fisch, two friends from past firms. I'm not sure if we were really able to afford to do so at the time! But we were sure we were going to get big. This was not long after we'd moved our offices to 228 Grant Avenue. We renamed the firm Tom and Aguila.
One of the next big projects we pursued was the interiors for 525 Golden Gate. As a minority-owned business, we joined five of the six architectural teams pursuing that project, and we ended up getting the job with KMD. Eleven years later, the project—which eventually morphed into the multiple award-winning LEED Platinum PUC Headquarters building—was completed.
Then Ron decided to leave the firm and return to RMW, where he still works. He wanted to focus on design and not have to stress about owning a business.
That's when the firm became Tom Eliot Fisch. This was 2001. Amy brought in multifamily housing interior projects from Avalon and experience with cultural and higher education clients, and we recruited Alyosha Verzhbinsky to join us. He had been at SMWM, and we'd crossed paths back when we were both working for Bull Field Volkmann Stockwell back in 1980.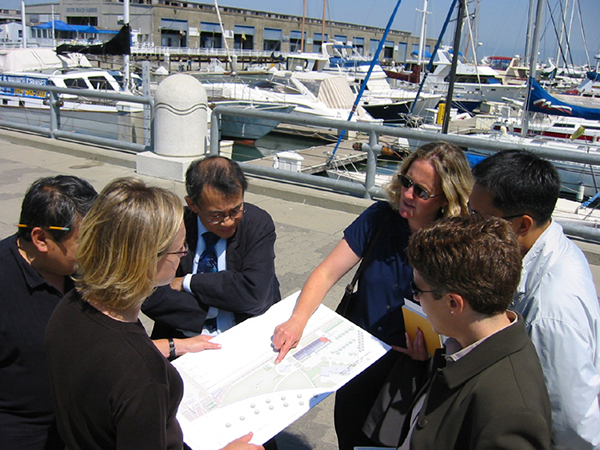 Team meeting at Pier 40 for our first ground up building project
Around that time, we designed the South Beach Harbor Services Building as part of the revitalization of Pier 40 for the San Francisco Redevelopment Agency. It was our first ground up, new building. We were the consulting architect to EDAW, which did the landscape and site improvements. The building resonated with its waterfront location without being overtly nautical. It was published in Architect, received local press attention, and really raised our profile in the city.
One of our most notable projects from that era was the C.V. Starr East Asian Library at UC Berkeley, a collaboration with Tod Williams and Billie Tsien. We got that one because Tod and Billie needed a local partner to work on the project. I remember them coming to our offices on Grant Avenue to meet us a few times and to really try to get to know one another. On one visit, their son Kai came with them, and we shared lunch with him. It just seemed like we clicked—it was a comfortable fit.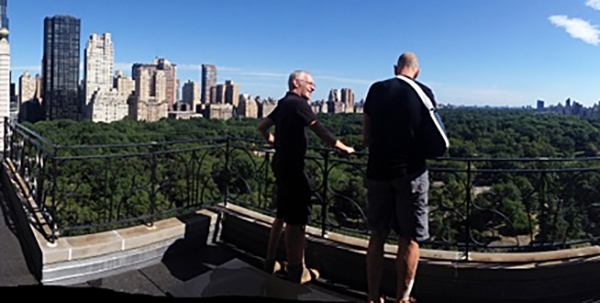 Alyosha visiting Tod Williams in New York
After the second meeting, Amy, Alyosha, Bobbie, and I each wrote notes to Tod and Billie, telling them our reasons for wanting the job. We really worked on making them personal. I think that helped us connect with them beyond just a professional level specific to the project. Through our association, we experienced firsthand what it takes to put a meaningful work of architecture together. We were also able to enhance our understanding of people's engagement with space on an emotional level and sharpen our ability to raise clients' expectations without imposing on or compromising their fundamental needs. It was a truly rewarding partnership that has continued to this day with our joint venture at UC Santa Cruz for the new Institute of the Arts + Sciences.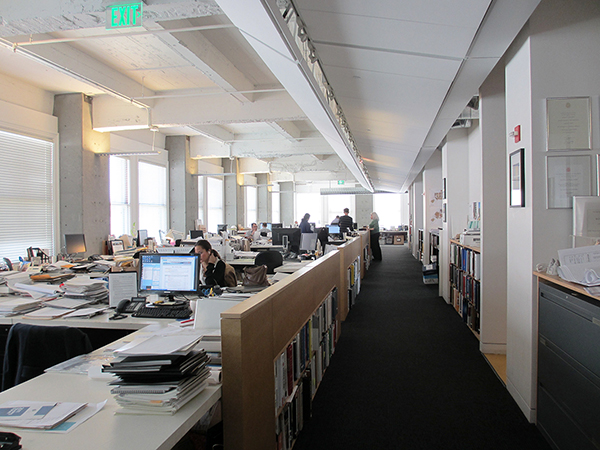 Offices at 201 Post Street
We moved our office to 201 Post Street in 2003, and among other things, pursued work with City College. I remember going to a lot of fundraisers for City College trustees. Those were awkward, because I didn't know anybody there at first. But our consultant Patrick Bell advised us to do it, and gradually we got comfortable with City College. When the college decided to hire an architect to design a performing arts center for the campus, the familiarity we'd gained with the institution's concerns and our understanding of prevailing campus issues helped us in our efforts, I like to think.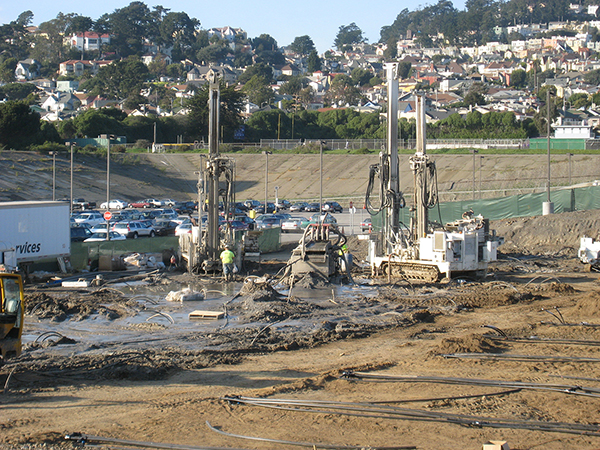 Geowells at CCSF Performing Arts Center, one of several LEED Gold targeted design strategies
The relationships we've built with people have led to a lot of our success. For example, as part of an as-needed contract with the City of San Francisco, we reached out to Carlos Villalva, who was then a Facilities Project Manager at San Francisco General Hospital. Not long after, he moved to Stanford Hospitals and Clinics. Meanwhile, Bobbie's colleague George Tingwald, who she'd known when they both worked for Skidmore, Owings & Merrill, got a job as Director of Medical Planning at Stanford University Medical Center. Carlos hired us first, to do a tiny equipment upgrade project.
Then George asked Bobbie to design the buildout of the Byers Eye Institute. That was the start of a string of wonderful projects for Stanford Health Care, including the Hoover Pavilion and Stanford Neuroscience Health Center, that gave us a foothold in healthcare. Our commitment to cultivating relationships really solidified during these times: in addition to Stanford, we were able to get repeat projects from the Presidio Trust, the City of San Francisco, and others. In 2006, we also did our first project for the Boys and Girls Clubs of San Francisco in the outer Mission, renovating and expanding an historic clubhouse that served the neighborhood for generations.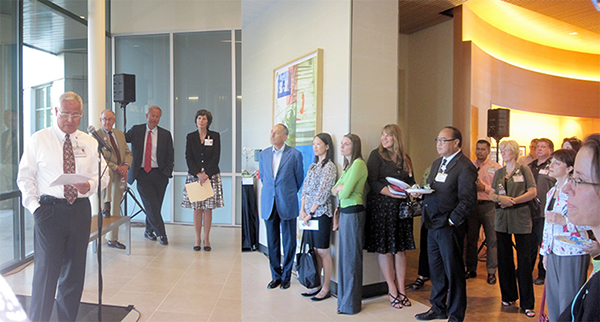 George Tingwald addressing attendees at the ribbon cutting of the Byers Eye Institute
Other projects we won during our decade at 201 Post include the buildout of Pier 5 North and South following our rehabilitation of Piers 1-1/2, 3 and 5, the Pacific Primary School, Plantronics Industrial Design Studios, several branch libraries, and the Bayview Children's Advocacy Center/Center for Youth Wellness. We also designed a number of modest but noteworthy park amenities and utility enclosures out at Mission Bay, as well as substation improvements for PG&E, that have led to a number of significant infrastructure projects.
In 2013, Amy left the firm to start her own practice. We changed the name to TEF Design and, recognizing the rapid and shocking increases in lease rates, purchased a building with help from a Small Business Administration loan program. We moved to new offices, our present digs here on Sutter Street. Relocating offices seemed to mark significant change.
To Be Continued. . .