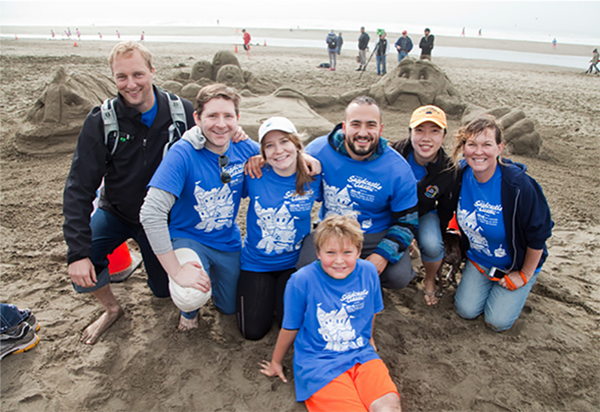 Pictured Above: TEF staff and friends at the 2016 LEAP Sandcastle Competition

(This story is the third in a series to celebrate the 20-year anniversary of TEF Design. Check our blog for newly published, bi-monthly stories about our firm's people, our community, and what drives us to design. Sign up
—
in the right corner above — to receive those updates in your inbox.)

It feels like the firm is still on an upward trajectory. I think our diversity of client and project types is a great asset. I don't know if it's recession-proof, but we're striving for recession-resistant. We have great, stable clients, like Kaiser, PG&E, Stanford University, UC San Francisco, and the Presidio Trust. But in recent years, we've also been able to successfully work with a variety of not-for-profit community organizations.
Working for not-for-profit organizations has been part of our DNA from the start. Back when I graduated from UC Berkeley in the mid-1970s, my first job was a volunteer position as staff architect with
AmeriCorps VISTA
in the barrios of Los Angeles, helping to design community centers and HUD-funded housing. From then on, I knew that I wanted to do community-focused work with real social impact. I had no idea then that I would one day own a firm that would do that kind of work, but that experience was key to who we are now. It took about 10 plus years of having the firm to get to a point of being able to give back to community based, mission-driven clients. But now we have the privilege of partnering with notable community organizations like
Tipping Point
, the
Boys & Girls Clubs of San Francisco
and the
San Francisco Child Abuse Prevention Center
. This focus has become part of the firm's culture over time and we mention it to potential employees as a big part of what draws people to work here.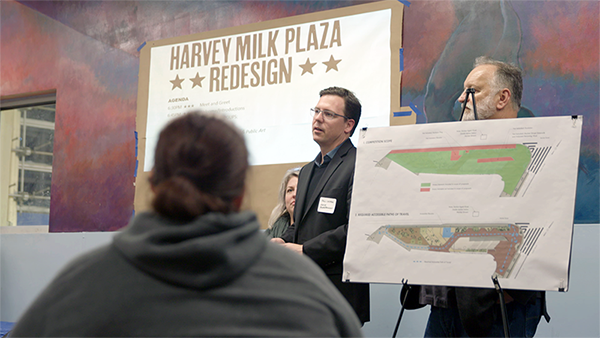 Paul (standing, middle) introducing the AIASF Harvey Milk Plaza Redesign competition.
A few years ago, we started planning ahead for the future, considering the next generation of leaders. We wanted to bring in people who would be strong advocates for our vision. One of the first people I thought of was Paul Cooper. I'd known him for eleven years, ever since he moved back to San Francisco. We were neighbors and our kids went to the same school. I saw a young, smart, very energetic guy whose experience included public libraries, community centers, and projects for universities. I had several lunches with him and made the pitch to become part of our practice. He jumped at the chance. Since joining us in 2012, he's worked on some of our key projects, like the renovation of the landmark
Bayview Opera House
and infrastructure work on PG&E projects, including a net-zero targeted substation expansion in the Tenderloin currently under construction.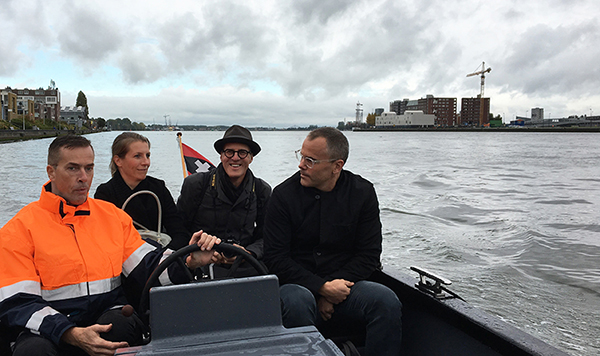 Andrew Wolfram (third from left) during his recent trip to the Netherlands with colleagues from San Francisco to study sea level rise and resiliency strategies.

Then there was Andrew Wolfram. We'd both worked for SMWM, although not at the same time, but we knew each other a little, and he'd worked with Alyosha on the Ferry Building renovation—a great example of private sector work that advances a positive urban agenda. I'd had lunch with him a couple of times over the years, just to have lunch.
Then one day in 2014, one of our architects came to me and said, "Have you talked to Andrew? He may be interested in moving to a new firm." Andrew had worked on a number of projects for the
Presidio Trust
and was leading the adaptive reuse of the old post office on Main Street into a shared headquarters for Bay Area regional agencies where TEF was the interior design firm. We realized that he shared our values and wanted to work for a smaller midsize firm where he could focus on local projects with relevance to the community. Since coming on board, he's been working on various building renovations, mostly in the SOMA area, the renovation at Pier 17 for the Swiss Consulate and
Swissnex
, a new master plan for Kresge College at UC Santa Cruz with Studio Gang out of Chicago and a couple of multi-unit housing projects in the City.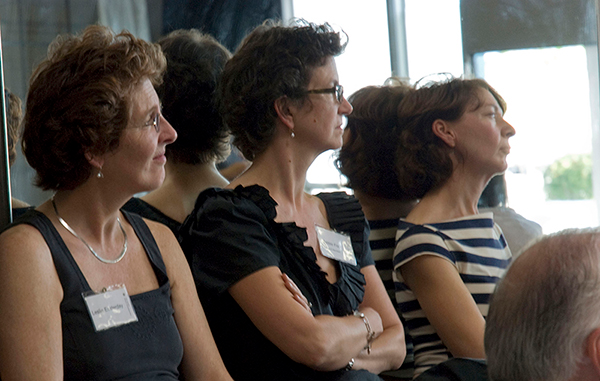 Bobbie (second from left) at a Joe Good Performance Group event.

The firm has developed a reputation for being a give-back kind of firm that really wants to work with communities. And all of us have ways we contribute locally outside of our jobs. I was president of the board of the Architectural Foundation of San Francisco for 12 years and currently on the boards of
SF Heritage
and Lick Wilmerding High School. I've also been involved on the boards of the
SF Education Fund
,
Envision Schools
and Pacific Primary School. Bobbie serves on the board of directors for the
Joe Goode Performance Group
, Alyosha has been president of the Friends of the
Randall Museum
, where he was instrumental in making the expansion a reality. Last year, he also rode in the 5
th
Annual
Northern California City of Hope Bike to Hope
and was the third top fundraiser. Andrew is president of the San Francisco Historic Preservation Commission, President-Elect of the Golden Gate Chapter of
Lambda Alpha International
, and also on the board of the
California Preservation Foundation
and Paul is currently president of the American Institute of Architects, San Francisco chapter.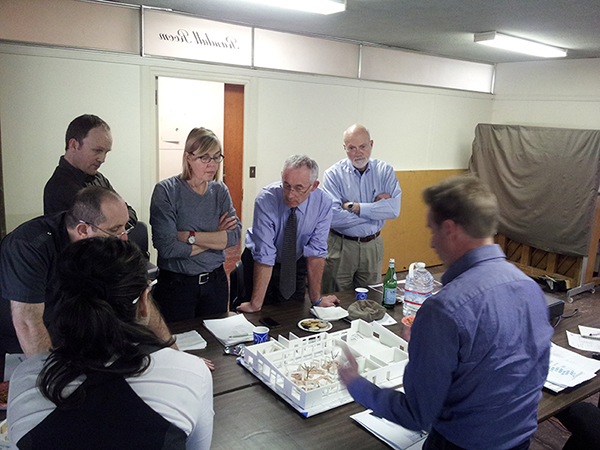 Alyosha with colleagues discussing the expansion of the Randall Museum.
And now, one of our next generation, Amanda Hoch, has taken my place on the
Architectural Foundation
Board. We've been active in the
LEAP
Sandcastle event, and with summer approaching, we are looking forward to hosting several interns from various colleges and high schools -- a tradition for more than a decade now. Many of our staff are also passionately engaged in the community outside of the office.
We believe that if architects bring their expertise—as architects, business people and as individuals—into their communities, they can effect significant social change. It's a vision that seems all the more relevant to us now, for the next 20 years, and beyond.