(This story is the eleventh in a series to celebrate the 20-year anniversary of TEF Design. Check our blog for newly published, stories about our firm's people, our community, and what drives us to design.)
As our plans for TEF's 20th anniversary celebration got underway, we decided we wanted to do three things: host a party to thank our clients and collaborators, take on a service project, and do something fun just for us. With the first two items underway, we decided to go on a guided tour together through the Presidio and check out British artist Andy Goldsworthy's four installations there. The Environmental Education Center at Crissy Field was one of our first projects and we've since completed more than 30 additional assignments at the Presidio. So it seemed like the right place to be for a milestone experience.
The Presidio Trust gives tours of the installations every Saturday and Sunday. Ours was led by the Trust's art intern, Catherine Cain. To our surprise, when we got to the Officer's Club to start the tour, we were met by Rob Wallace, the associate director of design for the Trust and one of our longest-standing clients. He'd heard we were coming and wanted to help with the tour. Rob has been with the Trust for almost two decades and, having worked on several of the projects with Goldsworthy, was able to give us some extra insight.
The tour route is 2.7 miles long. We started in the courtyard of the historic Presidio Officer's Club to see Earth Wall, a six-foot-wide half-sphere made from curved eucalyptus branches, which Goldsworthy affixed to the building's back wall and then encased in a rammed earth wall. His idea was to excavate this root-ball form, revealing its surface. Apparently, the mud was too soft at first, so he had to let it dry overnight and then come back later to start carving it away.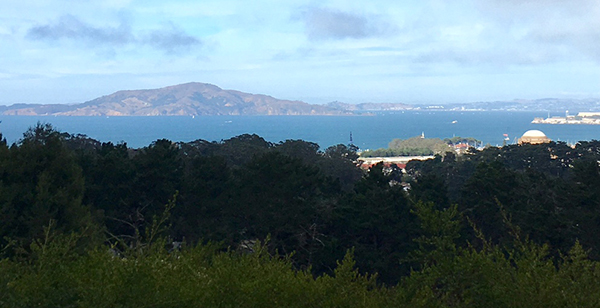 Next, we walked towards one of the trail heads and headed uphill. It was pretty steep. Some people in our office are very athletic, and they were totally fine, no panting at all. Others of us were thinking, "Oh, God, what did I sign up for?" We stopped to rest about halfway up the hill in a redwood grove, where our guides told us that all the trees we saw in the Presidio had been planted by the U.S. Army Corps of Engineers. Once everyone had caught up, we headed to the next piece, Spire.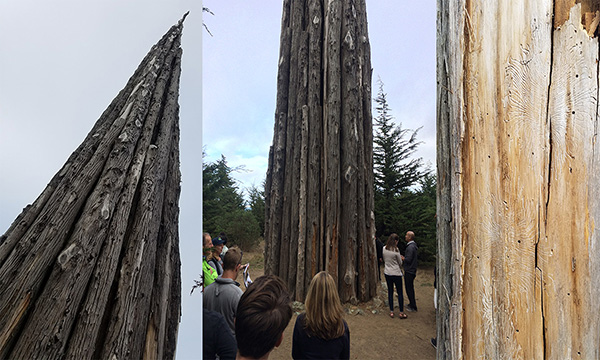 Among the trees planted by the Army Corps were some old Monterey cypresses, which had never been thinned and were competing for sunlight — all of the branches below the topmost canopy had died. That left the trees very top-heavy and prone to falling. So the Presidio Trust's forestry crew decided to cut the trees down and plant new Monterey cypresses. Goldsworthy chose 37 of the felled trunks to make Spire, fastening them into a tapering tower that rises 100 feet high. Since he finished the piece in 2008, the young cypresses have grown up to 20 feet tall, and eventually they will obscure the sculpture completely — a distinctly Goldsworthy touch of ephemerality.

After Goldsworthy sketched out the idea for Spire, he had to leave the physical work to a construction crew, who excavated the earth, poured the concrete foundation, and moved the trunks into place with cranes. Goldsworthy is used to building his pieces himself, and apparently, he just couldn't sit there. So during construction, he would fashion his characteristic temporary pieces, the kind that vanish in a day, like leaves organized into a line. Rob showed us a photograph of the construction workers, who were so inspired by what Goldsworthy was doing that they started making their own sculptures out of leftover bits of wood and found material.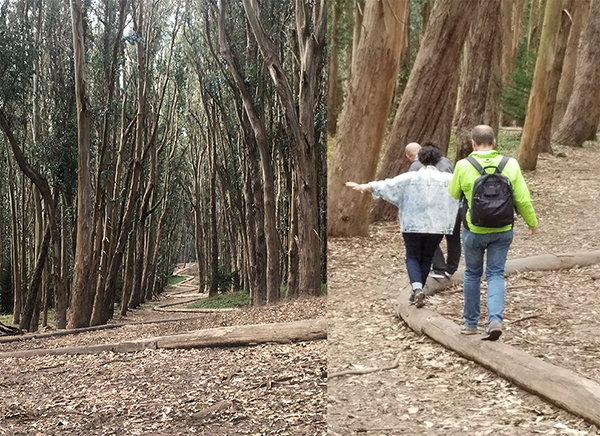 Then we walked to the eucalyptus grove to see Wood Line. The Army Corps of Engineers had planted rows of eucalyptus in the late 1800s, interspersed with rows of Monterey cypresses. The cypresses had died out long ago, leaving an empty corridor. So Goldsworthy organized an undulating line of eucalyptus branches, creating a natural path.
Two of our staff members who have super core strength and balance ran down the curvature of branches. I was so impressed that I wanted to do it, too, but I couldn't. I'm going to go back and practice, though.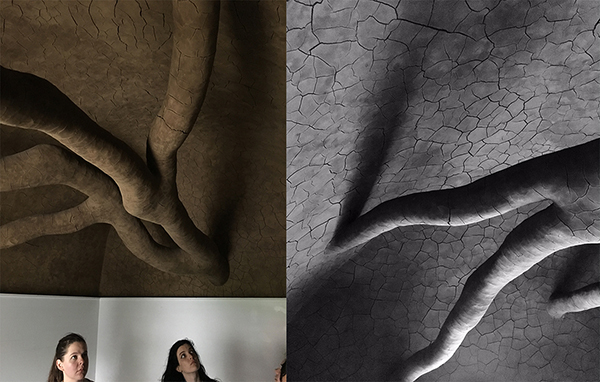 The final piece is Tree Fall, inside the Powder Magazine, an historic building on the Main Post that dates back to the Civil War. The modest structure was built as a safe place to store gunpowder. You enter through a large metal gate, and at first you can't see anything, because there aren't any windows. Then your eyes adjust, and the large tree branch that Goldsworthy suspended from the domed roof reveals itself as if by magic. He covered the ceiling and the branch with wet mud using traditional adobe technique, which cracked as it dried, creating a fantastic sort of mosaic. A unique, cage-like framework, under the mud, prevents the organic sculpture from touching the walls of the historic building.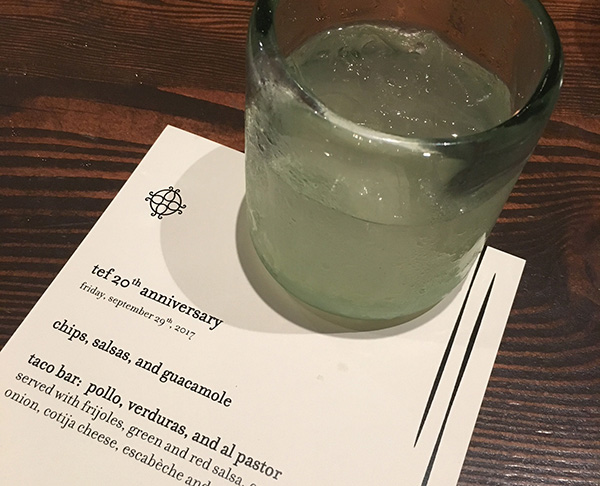 Finally we all gathered at Arguello in the Presidio Officer's Club, to enjoy drinks and dinner together. It was a great day — so rejuvenating to hang out with each other, and so inspiring to experience Goldsworthy's art. It was perfect mix of nature, art, design, and companionship.