Written by Alyosha Verzhbinsky and Mark Froemsdorf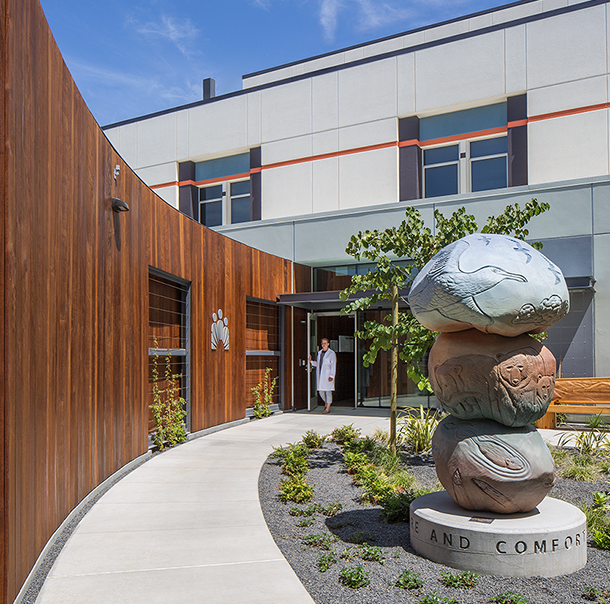 As part of their effort to expand mental health services, Kaiser Permanente, Northern California asked us to transform an existing medical/surgery unit at the Fremont Medical Center into its first-ever inpatient combined medical-psychiatric unit. The facility needed to accommodate psychiatric patients with serious medical conditions. The goal was to create a compassionate environment that felt calm and healing, while integrating strict safety measures for patients and caregivers.
Because this was a first for Kaiser Permanente Northern California – and because medical-psychiatric units are rare in general – we engaged in a lot of research and brainstorming with staff to make sure the unit would not only be appealing, but also allow for efficient and effective medical care and address the additional security needs of a psychiatric facility.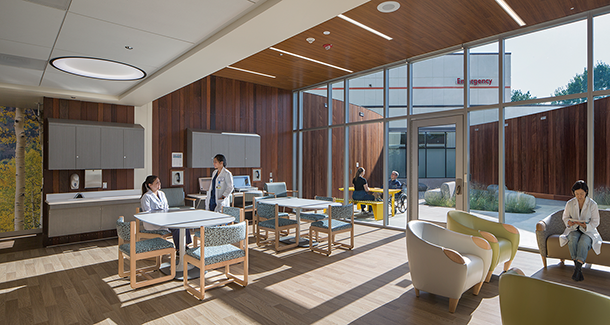 Located adjacent to the Emergency Department to facilitate intake, the unit has 18 patient beds in 12 private rooms and three semi-private rooms, as well as exam and consultation rooms, a dining and multipurpose room, and a secure, enclosed outdoor landscaped garden. The existing space wasn't quite large enough to contain the entire program, so we created a small, single-story addition to provide room for additional staff support spaces and give the unit its own public entry, separate from the rest of the medical center.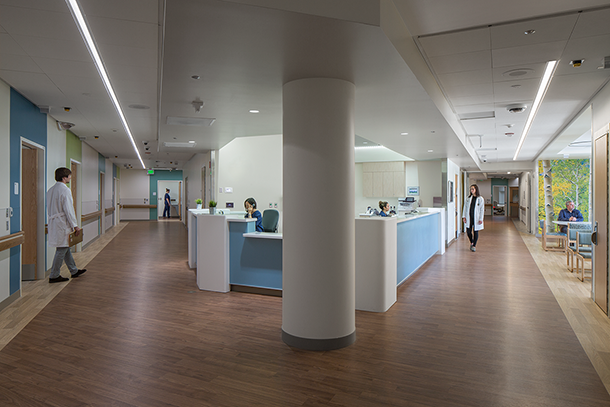 We extended the same design principles that we would apply in any institutional setting, whether a school, hospital or a community building. Extensive glazing allows daylight to penetrate deep into the floor plate to increase occupant wellbeing and visual access to the outdoors. We used natural materials wherever we could, including durable Ipe wood, and specified soft, warm colors. Additional wall graphics depicting nature, will be installed at a later date. These biophilic interventions work together to support health and well-being. We chose finishes, furniture, and light fixtures that correlate with the comfort of a home-like environment. All patient rooms have windows with both privacy and views to the outdoors, and they all have a desk and a chair. The facility includes a meditation room for patients, as well as a small group room, both of which are equipped with windows to allow for observation from the nurse station.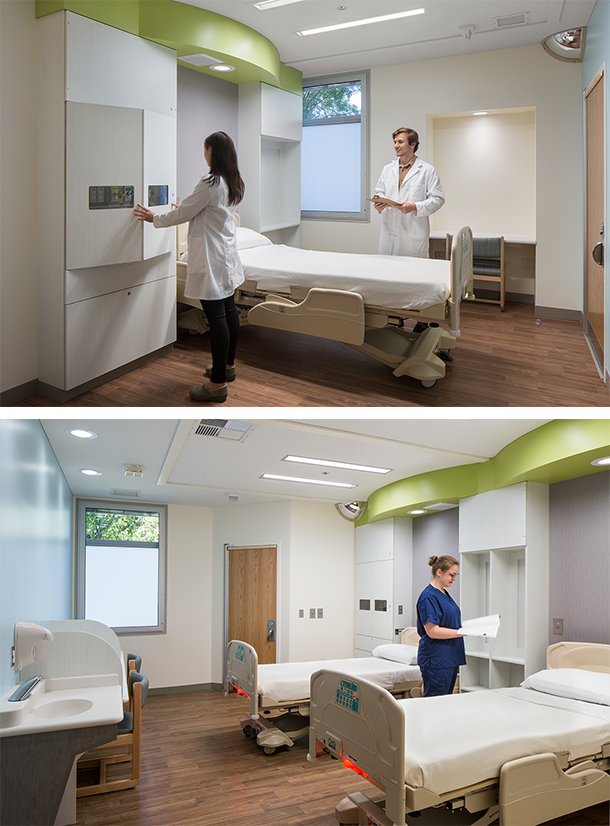 Safety is important in every environment, but with psychiatric facilities, minimizing opportunities for patients to harm themselves or others is paramount. Door hardware and plumbing fixtures are "ligature-resistant," so that nothing can be tied around them. Doors also feature an alarm mechanism along the top to alert staff if a patient tampers with it. Motion-controlled showers and sinks with rounded faucets also eliminate any potential looping points. And, doors are designed to resist being barricaded: "rescue stop" hardware allows staff to open a barricaded door from the opposite side.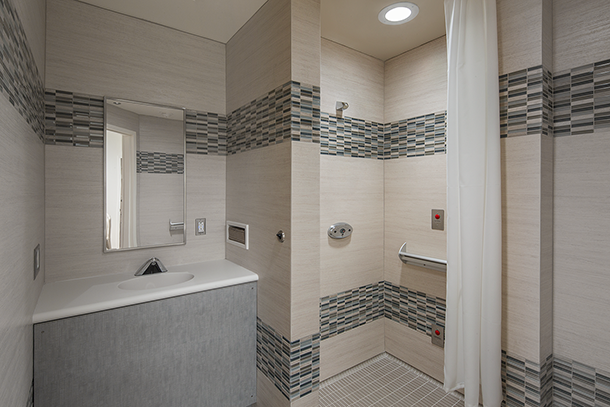 Kaiser also asked us to specify extra-heavy furniture to make it difficult to toss. Mirrors are made of polycarbonate, which is more durable than glass — although it does scratch more easily. We specified vandal-resistant light switches and fixtures wherever possible, particularly in areas where patients are more likely to be unsupervised, such as within patient rooms and restrooms. Not all products perform as well as others, so we sought guidance from the New York Office of Mental Health, which performs testing of products sold for behavioral health environments and publishes the results.
A lot of attention was paid to acoustics throughout. To reduce the amount of sound traveling between patient rooms, we provided as much sound transmission control as we could between doors and walls and installed acoustic plaster ceilings.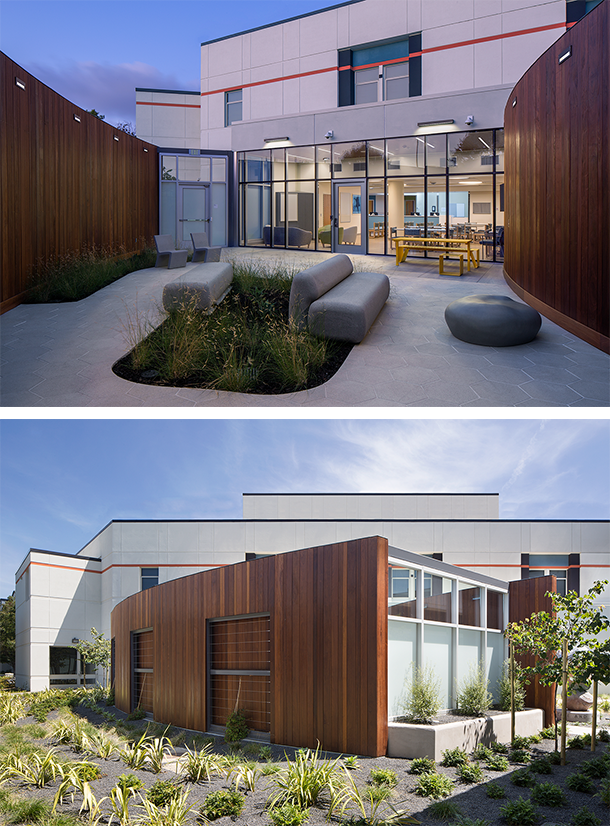 As part of the project, in collaboration with Creo Landscape Architects, TEF created a secure, dedicated courtyard so patients could have access to fresh air and the outdoors. There were various constraints on the site, including the adjacent emergency department entrance and underground utilities that couldn't be moved, which left us with a triangle-shaped area to work with. To cope with the limited space, we came up with the idea of curving the walls early on, to make the courtyard feel less rigid and institutional. It's also safer, because fewer angles on the building mean greater visibility for nurses supervising the space. There were some trees onsite that had to be removed, but Kaiser hired an artist to sculpt the reclaimed wood into playful benches for the courtyard. It's a quietly welcoming space, and visitors often bring their kids to run around and play there.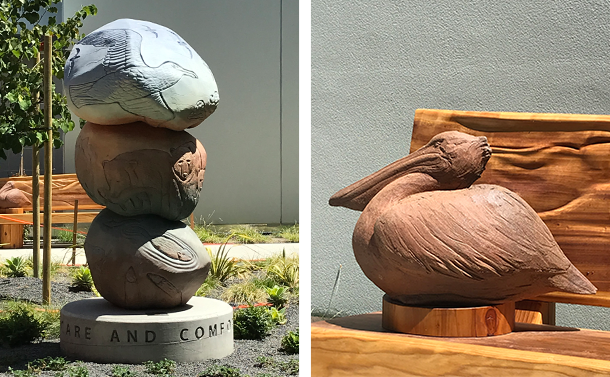 Most medical units have just one nurse station, but this one has two to increase the nurses' ability to see down corridors and monitor entrances. We installed the latest nurse-call system as well, which we adapted for the psychiatric facility, replacing plastic wall-mounted staff-call buttons in patient rooms with durable stainless steel versions wherever we could. Emergency buttons in the restrooms and showers allow patients to summon staff if they fall or need help.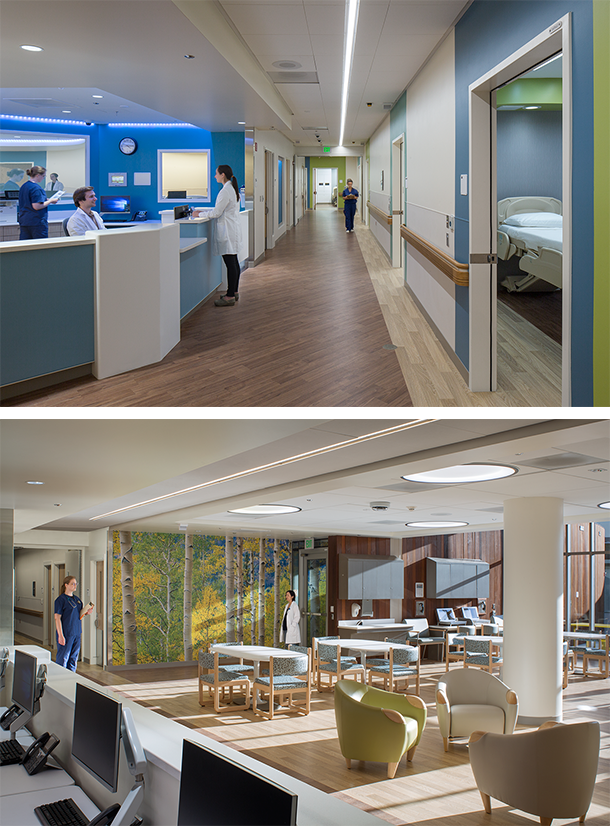 As the need for psychiatric facilities grow, these kinds of combined units will only become more common. We were glad to have the chance to work on this new (to us) building type, applying the same kinds of design principles we always rely on. Because even the most institutional of settings, regardless of the functional needs, shouldn't feel institutional.