To commemorate 25 Years of crafting places people love, TEF will be highlighting the personalities, projects, partnerships, and passions that have shaped our practice and drives us to design.
In their spare time, several of TEF's staff members make things by hand. Because March is National Craft Month, we invited three of them—Rachel Hammond, Justin Tang, and Kate Thorson—to talk about their crafting and how it relates to what they do at TEF. Crafting may seem like a busman's holiday for a designer, but as they reveal, the work they make on their own feels complementary to the work they carry out in the office, while also feeding and inspiring it.
Q: Tell us about your craft and what it means to you.
Rachel Hammond: I've been doing something with fabric one way or another since I was a kid. For me, it's about the experimentation. I'm interested in texture and transparency. Some of my favorite pieces involve fabric manipulation: I'll find fabric scraps and either manipulate the texture somehow or use dying or bleaching and create transparency or depth.
Justin Tang: I'm a woodworker and furniture designer. I find this work engaging in a tactile and personal way that's different from architecture. With architecture, you are working in a team setting and collaborating with many players. When the building is finished, and you visit it you have to sign in at the door. That feels so strange. With woodworking, if I feel creative, I can just make something, and I can feel that it's really mine.
Kate Thorson: I throw ceramics. I'm very into making functional pieces right now—mugs, bowls, plates, things that people can use daily. It's satisfying to create something that improves daily life. I'm always asking myself, does this mug function amazingly, or how could I make it better?
Q: What led you to pursue this craft?
Tang: One reason was that my parents were really good at saying no. The first time I saw my dad's Swiss army knife, I asked him if I could take a look, and he said no. So I glued two popsicle sticks together, sharpened one edge, and made my own. I made vehicles for my GI Joes. Later, I built model airplanes and cars. I always did side projects for friends, and I started my own woodworking business a few years ago.
Thorson: My dad has been doing ceramics since the 1980s. Growing up, I spent a huge amount of time in his studio. I started making little pinch pots. In the last three or four years, I've become more serious about ceramics. Now, anytime I visit my father, we'll spend time in the studio together and throw. It's a good bonding experience for us. We like to collaborate together.
Hammond: My dad is a maker. He's an engineer, and when I was growing up, if I wanted something, like a snowboard, he'd say, "Let's make it." Also, my grandmother, his mom, used to crochet. When I was a kid, I thought it was so cool that she could take a thin piece of yarn, and hours later, there would be an object, a blanket or afghan. So I had her teach me how to crochet.
Q: What's your process like?
Thorson: When I have a new idea, I like to sketch it out so I know how I'm going to execute it. Every time, though, I end up doing it a completely different way. I scrap the plan, and some other beautiful process emerges.
Hammond: Yes, I start with an overview, sort of bullet points—the medium I'm going to use, the general shape—but once I start seeing the three-dimensional form of what I've sketched, I always think, "Oh, it needs more color," or, "I need to switch to this yarn or change the texture." I make it way more complicated, but I let the work lead me as it develops.
Q: How has your crafting influenced your work as a designer at TEF?
Tang: I'm a huge proponent of efficiency. That comes from my background, having done a lot of blue collar work, whether moving bricks or building cabinets. If I can develop an easier, more effective method, I'm going to implement it! It ends up being less back-breaking work and more cost effective. I'm the same way when I'm producing drawings in Revit or sequencing tasks.
Thorson: I work a lot on interiors, and I feel because of my craft work, I analyze more how people are going to interact physically with the spaces I design. I want to make the best experience for them I can.
Hammond: Fabricating things makes me more conscious of how the user will experience the proportions and scale of that thing, which is equally important with architecture. Craft also makes me think more about how something will be made. For example, if we're designing a screen at TEF, and we know something about the fabrication process, we can design it in a way that's easier for the fabricator.
Q: Have you applied your craft-making skills to a specific project at TEF?
Tang: Every year, the firm participates in Chairity, where volunteer teams transform an ordinary chair, and then the chairs are auctioned off to raise money for charities. Our first year, Samantha and Alexandra and I took a basic maple wood chair flipped it into a Valet Chair, which enables the user to sit down while getting dressed. We reused every part of the chair and added legs and ears made of walnut. We named it "chaise lapine", the rabbit chair.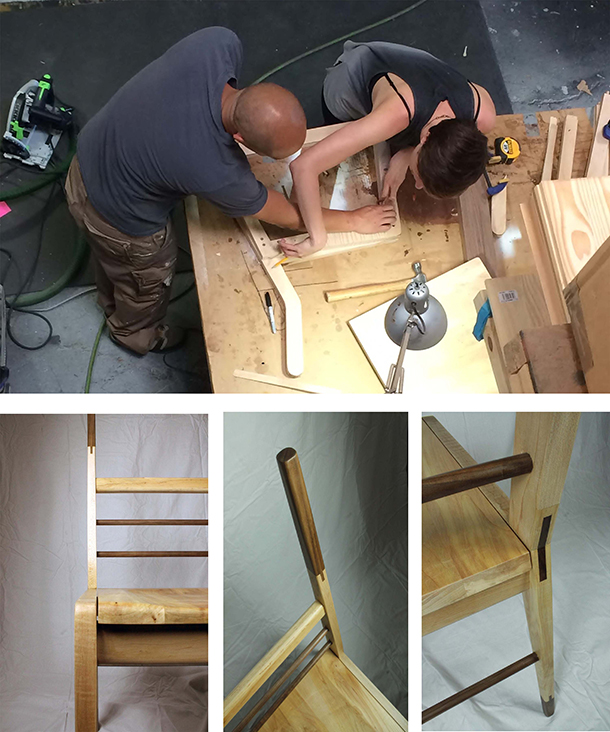 Fabricating TEF's "Chaise Lapine" for Chairity
Hammond: For a pop-up project that we created at the Japan Center West Mall in San Francisco's Japantown, we had a tight schedule and a very limited budget. I fabricated a forest out of foamcore to serve as a backdrop for the space, which showcased the different regional cultures of Japan.
Q: What have you gained from pursuing your craft?
Thorson: It's made me more patient. And I've gained a lot more trust in my own design ideas and aesthetic. Creating things with my own hands has made me a more confident designer.
Tang: The first project for my woodworking business was a media console. I gave my client three concepts, and he picked the one I didn't know how to build. But I said, "I'll build it." That was when I started believing in my own skill set. I learned to say yes to something that I might not know how to do, trusting that I had the skill set to figure it out.