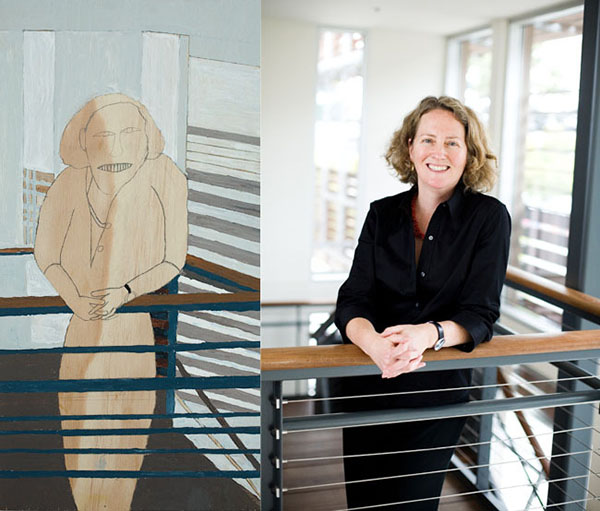 Portrait photo courtesy of Creativity Explored
Sometimes the intersection between art and architecture takes you to unexpected places. I thought of this when one of the arts organizations I'm involved with commissioned paintings of its board members. I gave Moses Brown, the artist assigned to create my portrait, a photograph of me to work with. It depicted me standing in the South Beach Harbor Building in San Francisco.
Moses worked on a wood panel, painting the building's architecture in great detail. And then, in the middle, where my figure was, he left the wood unpainted and just drew me in with pencil. It's such an interesting inversion of what most people would do. Later he told me he thought that, since it was a portrait of an architect, the architecture was as much the subject of the portrait as I was.
Moses is one of the artists associated with Creativity Explored, a San Francisco nonprofit visual arts center that helps artists with developmental disabilities create, exhibit, and sell their art. I got involved with Creativity Explored when AvalonBay Communities asked me to bring art into the second phase of their residential development in San Francisco, Avalon at Mission Bay North, where we were doing the interior design for public amenity and circulation areas. The head of residential services recommended checking it out, and I fell in love with the work.
I served as curator, working with Avalon's Development Director, Meg Spriggs and CE Executive Director, Amy Taub and Marketing Director, Ann Kappes, and we ended up installing 95 pieces of artwork from Creativity Explored artists in the public spaces. One of the challenges was working with the scale of the lobby spaces, which really demanded large-scale pieces. Many of our artists don't usually work that large, because our 16th Street and Potrero Hill studios are at full capacity and more importantly, some of them have very real physical constraints, so covering a very large canvas is difficult. But our studio staff, who are all practicing professional artists themselves, go to incredible lengths to make things possible. They'll rotate canvases to make them easier to reach, or develop new tools to help an artist who has difficulty holding conventional tools. Sometimes our approach was to make assemblages or do triptychs or diptychs with a series of smaller pieces to enlarge the zone of the work to work with the scale of the space.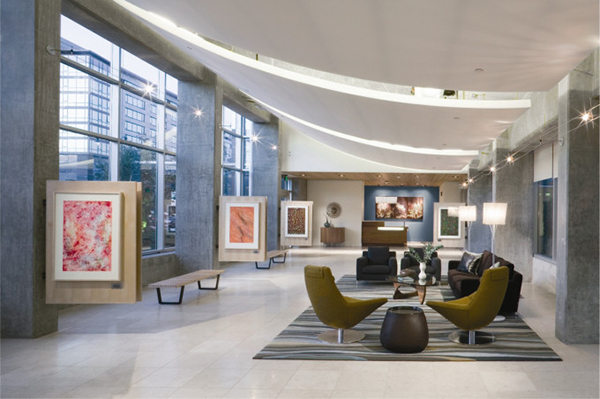 Photograph by David Wakely
AvalonBay held a reception in 2006 when all the art had been installed in the building, and the artists and their families came. It was wonderful to witness their jubilance and pride at seeing their work become part of a brand-new building. It was such a success that AvalonBay commissioned 15 more works for the project's third phase, Avalon at Mission Bay III, which opened in 2009. And since then, a number of other local housing developers, including Bridge Housing and Mercy Housing, have worked with the Board and staff to incorporate art from Creativity Explored. There is so much diversity in their art. This is what makes it so authentic and enlivening for designers, building owners and art patrons to have in their environments – it is very much an expression of the artists' personal vision and life experience.
We're currently working on increasing the organization's ability to fund itself from the sale and use of its art—which will help make up for diminishing state funding and also help the artists, because they get 50% of the sale of their work. We're also looking for ways to transform the organization into a national model, helping others establish similar organizations and best practices.
What is so refreshing about these artists is their honesty. Although most of them have very supportive families, a lot of them are dealing with some pretty serious challenges. One of the incredible attributes of Creativity Explored is that it's a place where each of them is treated with dignity—as artists and as people.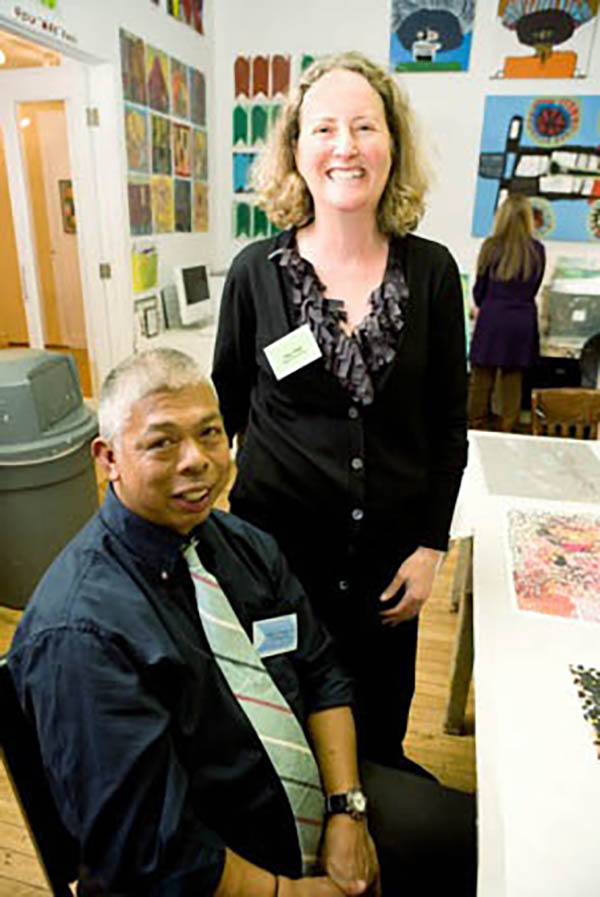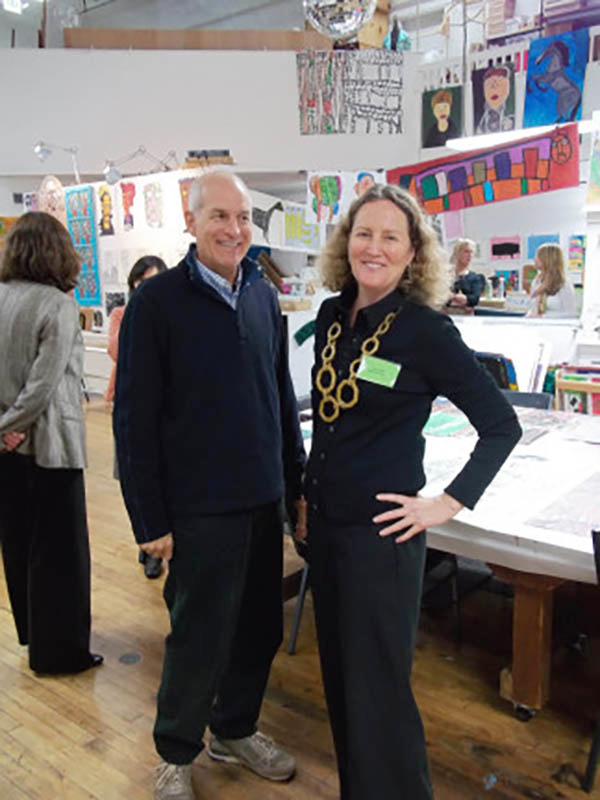 They are extraordinary to spend time with. Some can't speak. Some can only move around with assistance, either a wheelchair or other devices. In certain cases, you barely notice they have a disability. How you exchange ideas with our artists happens in different ways with each of them. They have a way of making you a part of their art-making that you wouldn't expect. If you spend time in the studio, you are invited into their world.
Recently, Beth Lisick, New York Times best-selling author, who is working on a book called Tell You What: Advice on Life from Creativity Explored (working title) went on a trip to the de Young Museum with two of our artists, Walter and Marcus. They reminded her that "a great way to enjoy art is to try and imitate the facial expressions of the people depicted in the photograph or painting. They studied each picture and then tested out their expressions on each other."
For more of Beth's experiences with Creativity Explored and its artists, visit her blog at bethlisick.tumblr.com.
The most interesting thing about working with our artists and engaging with them is that at the end of the day, yes, they have disabilities. But first and foremost, they're really artists with an extraordinary gift to the world – their self-expression and their humanity.
Check out the Creativity Explored blog at www.creativityexplored.org/blog.